Doggylicious provides the best care for your pet!
About Me
Hello, thank you for visiting Doggylicious Mobile Dog Grooming. I am Anna and having a father who has been a dog trainer since the 1970s and being brought up with dogs all my life, there was no other route for me other than dog grooming!
I started my training when I was 17 years old at Smartie Pants Dog Grooming Academy in Bedford, for whom I then went on to become a full time grooming assistant. From there, I quickly progressed into teaching dog grooming when the academy became part of Shuttleworth College. In my time there I taught to a large number of students how to groom and run a dog grooming business to NVQ and City & Guilds standard, by delivering practical demonstrations as well as theory lessons.
I then went on to become the resident dog groomer of a busy pet shop on Kensington High Street (London), where I came across lots of interesting and unusual breeds from Hungarian Pulis to Bedlington Terriers and Chinese Crested. After my exciting time in London, I took a career break and started a family. It was then that I decided to start my own business. Doggylicious Mobile Dog Grooming was established in 2009 and I am committed to providing high quality service and a great grooming experience for your dog.
I regularly attend seminars and grooming shows to keep up-to-date with different techniques and the latest equipment to make my doggies look their best!
Visit my Facebook page Doggyliciousmk for news and many more photos of my lovely doggies.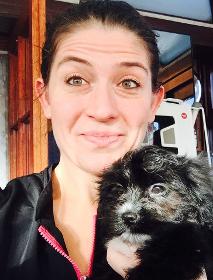 Qualifications
Cat & Dog First Aid (March 2013)
The Further and Adult Education Teachers Certificate, Stage 1 (2002)
NVQ Training & Development (Learning) Level 4 (2002)
City & Guilds 7750 Advanced Certificate in Dog Grooming (2001)
Testimonials
Excellent Service
"I can highly recommend Anna, she has been looking after my two dogs for several years now. She manages to transform my polar bear of a cocker spaniel into a sleek looking model. Anna has a calming nature on the dogs and talks to them contantly, so for nervous dogs she is a must. A dog groomer that really likes dogs!!"
Excellent, professional and friendly service
"Anna has groomed Jessie, my Jack Russell for a year now and we are always happy with the end result. Jessie is always very happy to see her, I would highly recommend her grooming services."
Brilliant Dog Groomer
"Anna has groomed my two Cavaliers for a couple of years now, she is always welcomed by my two, who are very happy to see her. She gives an excellent grooming service, and I would recommend her."
Highly reccomended
"Anna has a way with my elderly, occasionally grumpy, dog. I have used her services twice now and when she returned for the second time he was pleased to see her...so I can't think of a better recommendation. I was also very pleased with how smart he looked after being washed, groomed and generally pampered."
I wouldn't swap Anna for the world
"Anna has looked after my Shit-Tzu for 3 years now- I love that she comes to my home and cares for him in his own environment. Anna spares no detail, however long it takes her to bathe & clip my dog - everything from anal glands to inner-ear, all meticulously done. Result- one happy Dog! I wouldn't swap Anna for the world!"
Click on the pictures to enlarge.